December 2011
Adopt a Family with the MSPCC
In conjunction with the Massachusetts Society for the Prevention of Cruelty to Children, Keller Williams Realty and its associates will once again work to provide a joyous Christmas for families working with the MSPCC.Last year, we are please to spread our Holiday joy by providing Christmas gifts to 18 families. Once again, the MSPCC will provided us with information about families in need and the their personal stories. Many are families dealing with unemployment, illness, and even homelessness. Through donations of gift items and cash donations, we were able to make a happy holiday for these families.
Keller Williams Realty would welcome any and all community involvement in this effort. If you would like more information about this program or would like to help out, please call Sharon White at 508-384-8900. You can adopt a family, adopt a child, contribute a single gift or make a cash donation and leave the shopping to us. Please consider joining us in this labor of love.
---
November 2011
Support The Wrentham Food Pantry
For several years now, our Keller Williams associates have arrived at our November office meeting with bags of non-perishable food items to be donated to the local Food Pantry. With our new home here in Wrentham center, we will proudly donate this years' donations to the Wrentham Food Pantry.
If you would like to participate in this year's collection, please feel free to drop off your non-perishable food items at our office (78 South St, Wrentham) by November 18th. Any cash donations will also be passed on to the food pantry.
Veteran's Day- Nov 11
Keller Williams Realty was proud to celebrate Veterans Day with town residents on the town common. This event was made special by the participation of two of our associates who are veterans, Winston Ho and Ron Arpino. To honor her father, our adminstrator, Sharon White, invited her father, James Foley of Norwood, to join us in the celebration. It was a breezy, chilly day, but pride and gratitude for those who have served our country made it a heart-warming event.
Click here to view Veteran's Day photos!
---
October 2011
The Halloween Prowl - Oct 29th
Trick or Treat! Keller Williams Realty was thrilled to participate in the Wrentham Downtown Merchants Halloween Prowl. We were visited by Snow White and one dwarf, by Red Riding Hood and the Wolf, by a little lamb, Bob the Builder, and a Policeman. Click here to see photos of the cutest kids ever! Thanks for letting us be part of your Halloween happiness!
Halloween Costumes for the MSPCC - Oct 27th
At Keller Williams Realty, we believe that sometimes you just have to have fun! So this year, the tradition continued with our Halloween celebration. We had witches, clowns and even Chef Boyardee attending our monthly office meeting but, more importantly, our agents brought in unused children's Halloween costumes which were presented to Charity Bell (yes, that really is her name) from the Massachusetts Society for the Prevention of Cruelty to Children (MSPCC) for distribution to underprivileged children.
5K Walk to Prevent Domestic Violence - Oct 1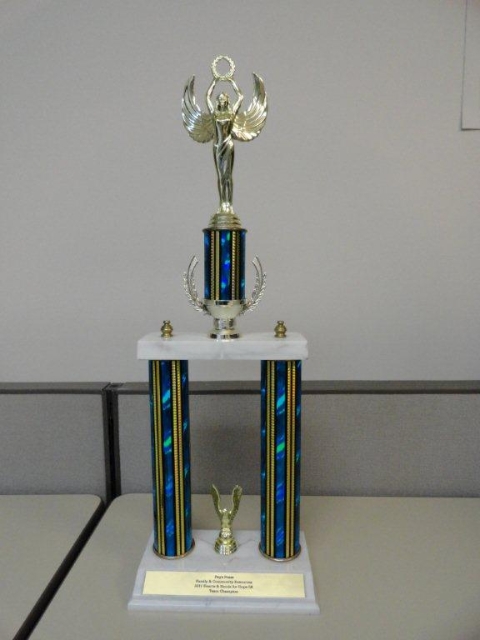 Team Champion Trophy
Presented to Peg's Posse
In a movement spearheaded by associate, Peg Carbone, Keller Williams Realty in Wrentham pulled together 8 associates and family members to participate in the Hearts and Hands 5K Walk/Run to Prevent Domestic Violence. All together, Peg's Posse, raised over $3,000 for this worthy cause.
September, 2011
Wrentham Day Festivities - Sep 10th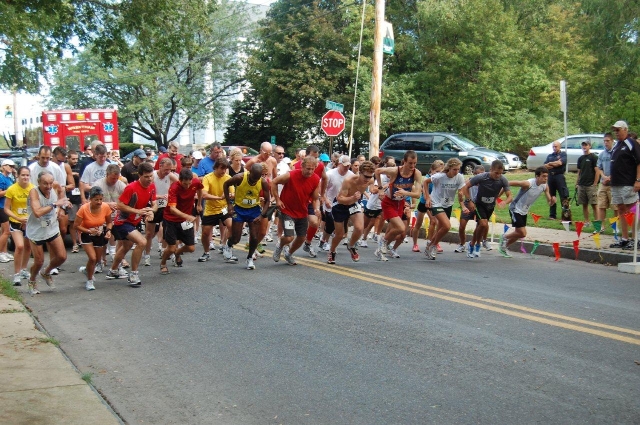 Start of Wrentham Day 5K Road Race
Great weather, Great turnout, Great fun. What else can you ask for? See more photos of the event.
---
June 2011
St Jude Children Hospital - Jun 6th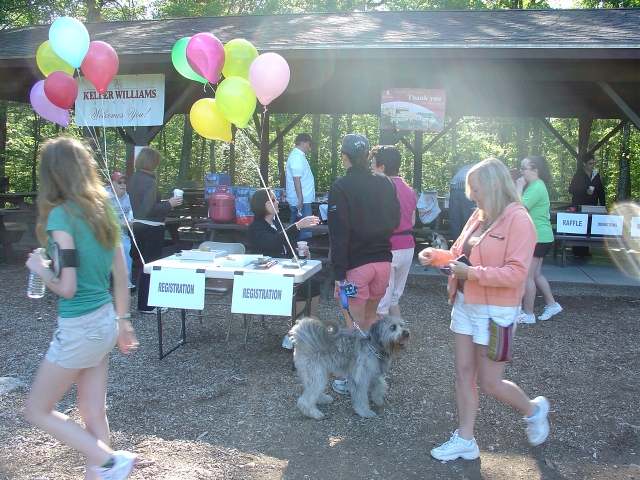 KW Wrentham sponsored walk at the Hopkinton State Park in aid of St Jude Children Hospital. Approximately 25 people participated in the 1, 3 or 5 mile walk. Walkers raised money by gathering sponsors. Keller Williams walkers along with several walkers from Bose, Inc. raised over $4300 for this very worthy cause.
---
May 2011
Red Day - May 12th
May 12th each year is designated Red Day to celebrate the Birthday of Moe Anderson, Keller Williams former CEO. Moe is a firm believer that Charity Begins at Home, so in her honor, each year Keller Williams Market Centers gather their agents to perform some activity that serves the community. This Keller Williams Market Center has hosted a Blood Drive for the MetroWest Medical Center.
If you are involved in a local charity or organization that could you some "manpower" for a day, please contact us. Let us know about your organization and its needs.
---
Email events@kwwrentham.com for more information.
---